By Michael Morrison on Tue 31 May 2022
What is an IP Rating? Well, it stands for Ingress Protection Rating, simple as that! Oh, but what does that actually mean? Its the level of which the fitting or lamp is protected from the elements given in both a solid and liquid defence form. That's the technical answer, but I'll break down what that means more below.
IP Ratings in Lighting
Simply put any lighting fixture or fitting should have an IP rating, especially if they are to be considered for outdoors use or anywhere indoors where they may come in contact with moisture. So say you pick up a product and you see the IP Rating on it, let's go with IP67, where can you use it? What does it even mean? Once you learn about the rating system you will see it's actually pretty easy! If you look at an IP Rating it is simply 'IP' and 2 numbers, so what do these mean? The first number is in relation to the solids protection and the second number relates to the liquids protection. Each number then relates to a specific level of protection from that related field, as highlighted in the table below.
For example, IP65 would give…
6 on solids, or, totally protected from dust and
Then a 5 for liquids, or, protected from low-pressure jets of water from all directions.
IP57 gives…
5 on solids which protects against dust with limited ingress and,
7 on liquids which protects from immersion up to 1 metre for 30 minutes.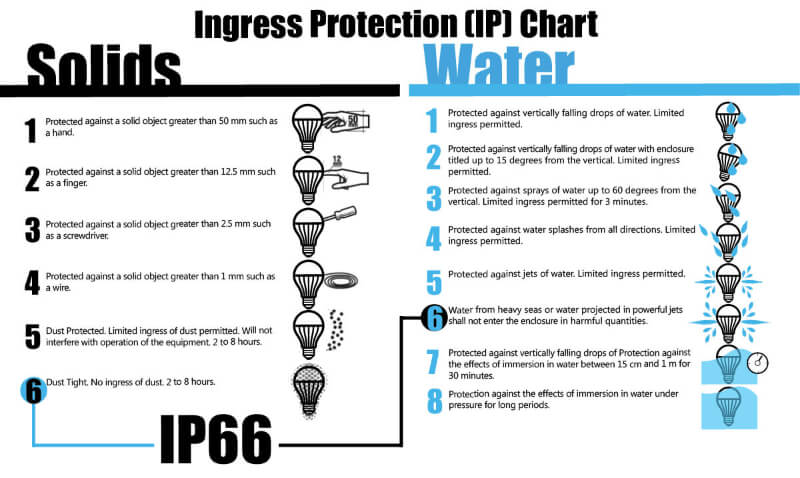 What about IPX?
This can be taken as a substitute for 0, either because the item offers zero protection or because it hasn't been tested. Therefore if you see something that is rated as IPX6, take that as protected from strong jets of water, but has no recorded or tested protection against solids.
Outdoors vs Indoors IP Ratings.
Whilst there is no definitive 'this is outdoor and this is indoors' rating as such, it is generally taken that IP44 and above is ok for outdoor use and anything below is more for indoors. This is because anything with a liquids rating below a 4 won't really account for the likes of rain and outdoor cleaning which can come from any and all angles.
Indoor IP Ratings will tend to be like IP43, IP35, and IP40.
Outdoor IP Ratings will tend to be IP67, IP55, and IP65.
However, it is also important to remember the environment you are going to have the product in before you decide on which IP Rating you need. For instance, will the fitting or fixture be out in the open or will it be under a canopy? Does it really need to be that highly rated then? If it's indoors, will it be in the likes of a nice dry office space or could it be a kitchen which may be quite humid? Once you take this all into consideration you quickly realise that the IP Rating of a product is highly dependant upon the location in which it is being used and the job that it is being used for.
LED Lighting and IP Ratings
These days a lot of the newer LED products are coming with quite high IP Ratings and there are many reasons for that.
More modern manufacturing processes allow for tighter tolerances and therefore tighter seals.
With the reduction in heat output plastic and rubber can be used in the units which are excellent barriers to moisture and corrosion.
A lot of LED products now are all in 1 meaning everything is held within the one unit which allows the manufacturer to seal it off. The flip side is of course you usually have to dump the whole unit when anything goes wrong.
Another advantage of using plastic also means that the casings are more robust to damage, particularly from knocks meaning that seals stay intact for longer.
As you can see IP Ratings and light fittings and fixtures go hand-in-hand. The one thing to note is to always take a second to think about what sort of use the product is going to be getting as sometimes you may need a higher rating or a lower rating that you initially have thought.