By Clive McMullan on Fri 23 July 2021
Selecting emergency lighting batteries can be tricky. We know our users often face challenges when identifying batteries so we thought we'd lend a helping hand. You can stop scratching your head and take our advice: the 6 C's is Lamp Source's foolproof guide to choosing the right battery for the job every time.
Want to make emergency lighting battery selection easier? Keep reading to learn the 6 C's and you can wave goodbye to lighting battery headaches!
Click to see our wide range of batteries
What are the 6 C's of Emergency Lighting Battery Identification?
Cell Quantity: How many cells are in your battery pack? You'll usually find this number will be between 2 and 6… but it can vary so make sure you check. This is super important because the quantity of cells determines the output voltage – so you really want to get this right. Double check if you have to, but if you know your quantity then you're off to a good start.
Cell Chemistry: It's not as tough as it sounds! Emergency lighting batteries generally fall into three types of chemistry: NiCd, NiMH and LiFePO4. Let's break this down for you:
NiCd - Nickel Cadmium which is the traditional large-cell style which you might recognise
NiMH - Nickel Metal Hydride - similar to NiCd but smaller
LiFePO4 - Lithium ion - the newest, smallest, most efficient and environmentally friendly
Remember each chemistry type has a different charging method. If it's an emergency fitting, usually only one type will be accepted unless your fitting specifies otherwise. Always remember to replace an existing battery with one of the same chemistry. Don't get caught out, check your chemistry!
Cell Capacity - This affects the duration of the battery and how long the emergency lighting will remain on for. It's important to replace a battery with one of equivalent or higher capacity to comply with 3-hour duration testing under BS 5266-1. Typically, this ranges from 1.3Ah to 4.5Ah for cells, and can go much higher for SLA batteries.
Cell Configuration - You've probably noticed that lighting batteries come in all shapes and sizes. They're designed to fit the available space in the luminaire so unfortunately there isn't one size fits all! Don't worry though, there are a few common configurations worth remembering to make battery selection that little bit easier. Here they are:
Side by side
Stick
Rectangle
Stick + Stick joined by a connecting lead
Square/cube
Triangle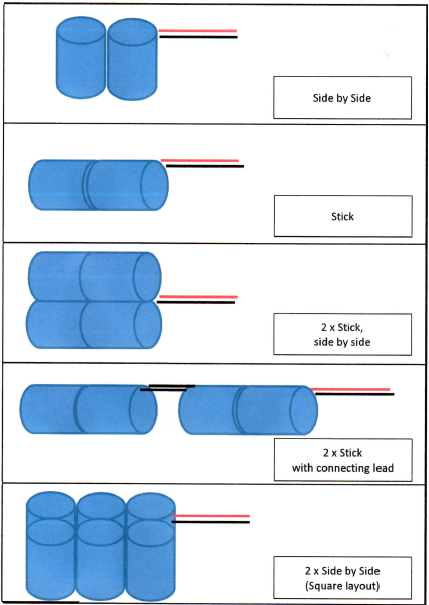 Cell Size: There are a few different cell sizes used in emergency lighting batteries so it's a good idea to check and get this right. The common ones to look out for are:
D - the largest size
C
Sub C
AA LAHT or AA+
Connections: Last but not least, always check your connections. Does the battery have a connector or fly leads? If it's a connector you're looking at, then bear in mind there are a range of different connectors available so you'll have to select the right type. A good tip is to have a photograph on hand if you're replacing an existing battery to guarantee a match.
Lamp Source are lighting specialists providing solutions to many industries, boasting extensive stocks and a comprehensive knowledge of our sector. If you'd like to chat with us, we'd love to hear from you.
Drop us an email at sales@lampsourceirl.com or get in touch today.